Fun Diving
Attendance requirements: Certified open water diver (PADI etc)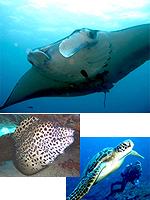 We like to dive at a leisurely pace and operate a small-group policy (max.
of 3-4 people). Please feel free to make any requests ? whether it be Manta
Rays, tunnels and other interesting rock formations, big fish, coral, tiny sea creatures, or expeditions to distant islands! The world famous Sekiseishoko,
Manta Scramble at Kabira Ishizaki, as well as other islands in the Yaeyama
region such as Taketomijima, Iriomotejima, Kuroshima, Haterumajima… We will take you to wherever the best points are for that day!
Introductory Diving (Trial Dives)
Attendance requirements: Anyone can participate as long as they are 10 years or over and healthy.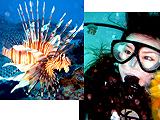 Welcome to the world of diving! After a simple lesson (15 mins) and then
some time snorkeling to get used to the water, one of our professional diving instructors will introduce you to a fabulous underwater world!!
You can breathe underwater! Come and experience this magical sensation for yourself!!


We do not offer introductory dives at Manta Point, as the sea is up to 10m deep and there are large numbers of boats coming and going. We do, however, offer snorkeling at Manta Point on the 1 day course.
Snorkeling
Attendance requirements: Anyone can participate as long as they are healthy.


This is a great way for young children or first-timers to take a peek under
the seas around Ishigakijima ? an incredible underwater world with beautiful
coral and colorful dancing fish just waiting for you!
Note
*Please understand that we may not always be able to accommodate all requests due to wether and sea conditions etc.
*It is not possble to travel by air on the same day as you have gone diving. so please take this into account when planning your schedule.
*Manta Point takes a while to get to from the port. so we only go there as port the full day course.
Schedule -Reference-
8:30~
pick up from accommodation withi center of city.
9:00
Riding on the diving boat.
9:30
enjoy diving or snorkeling.
12:00
Lunch time
13:30
enjoy diving or snorkeling.
15:00
Returning to port.
15:30
Go along to diving servise.Logging.
16:30
sending to accommodation.
*We will be out at sea for the whole day, so please remember to bring everything
you need.
*It is possible to switch from 2 dives to 3 dives on the day.
Things you need to bring
Towel / Swimming costume
Divers certification card / Log book

Things that are good to bring
T-shirt and shorts to wear over your swimming costume
Beach sandals / sun cream / change of clothes
windbreaker
* We will spend the whole day travelling around on the boat, so if you suffer
from sea sickness, please make sure you bring some sea sickness prevention
medicine with you.

Recommended clothing
Summer: shorts;light, hooded top; hat
Winter: light trousers; fleece
Sandals that are OK to get wet
price list
Course menu price list
Menu
Price
Comments
Fun Diving
*Equipment rental not included
One boat dive
\8.480
*Lunch not included
Two boat dives
\12.960
Three boat dives
\18.360
Night dive (1 dive)
\10.800
Minimum of 3 persons
Introductory Diving (Trial Dive)
*Equipment rental included
One introductory dive
\16.200
am: 1 dive; pm: snorkeling
Two introductory dives
\21.600
am/pm: 1 dive each + snorkeling
Snorkeling
*Equipment rental included
One day of snorkeling
\8.640
Half a day of snorkeling
\6.480
*Lunch not included
Boat charges (for accompanying)
*Passengers may not enter the sea
One day (on the boat only)
\3.780
Half a day (on the boat only)
\3.240
*Lunch not included
*All prices include tax.
*All prices include pick up from accommodation within center of city, soft
drinks and lunch (lunch is not included in the half day course), tanks,
weights, boat charges and insurance.
*Equipment rental is included in the price for introductory diving and
snorkeling.
Equipment rental price
 Equipment
Price
Comments
Diving equipment rental
Full rental
 \5.400
Wetsuit, mask, fins, snorkel, BC jacket, regulator
BC jacket/Regulator
\3.240
BC jacket
\2.160
Regulator
\2.160
*Please inquire with us in advance if you use an AIRⅡ inflator
Wetsuit
\1.620
*We have limited numbers of each size, so please ensure you check your
size cerefully in advance
Fins, mask, snorkel (3piece set)
\1.620
Other items
Digital camera rental
\3.240
Price includes a CD with all your photos on it
Memory CD
\1.080
Price includes a CD with all of the pictures of you taken by our staff
during your dives
*The price for equipment rental are for one day's usage.
Topics!!
Discount offers!!


Tida Diving Service
Address 2-11-5 Yashima Ishigaki-shi Okinawa-ken 9070242 Japan
Tel / Fax 0980-87-5530
E-mail info@tida-ishigaki.com
URL http://tida-ishigaki.com